Solar panel frame material
It is well known that the
solar panel frame
is also called solar panel aluminum. So we can figure out that the frame is made of aluminum. But it is not of pure aluminum, cause the pure aluminum is too soft which can be deformed easily. 
Now we use the aluminum alloy 6000 series material to make the solar frame for
solar panel
based on its high strength and firmness. Currently, we use
6063
and
6005
aluminum alloy material to produce solar frames.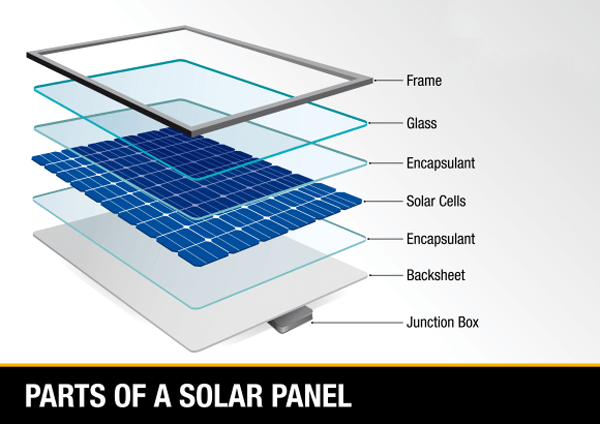 Advantage of  aluminum solar frame
1. Corrosion resistance and strong oxidation resistance;
2. Strong strength and firmness;
3. Strong tensile strength;
4. High elasticity, rigidity, and metal fatigue value;
5. Convenient transportation and installation, even if the surface is scratched, it will not oxidize, and does not affect performance;
6. It can adapt to various environments through a convenient selection of different materials;
7. The service life is more than 25 years.
Now let us have a deep understanding of aluminum frame material chemical composition and mechanical properties.
Mechanical properties of aluminum frame
| | | | | | | |
| --- | --- | --- | --- | --- | --- | --- |
| Alloy | Temper | Thickness | T.S./σb (MPa) | Y.S/σ0.2 (MPa) | ELOG./δ% | Hardness/HW |
| 6063 | T5 | ≥ 0.8 | ≥160 | ≥110 | ≥8 | ≥8 |
| 6063 | T6 | ≥ 0.8 | ≥205 | ≥180 | ≥8 | ≥10 |
| 6005 | T5 | ≥ 0.8 | ≥260 | ≥240 | ≥6 | ≥12 |
| 6005 | T6 | ≥ 0.8 | ≥270 | ≥250 | ≥6 | ≥14 |
Chemical composition of aluminum frame​
| | | | | | | | | | | |
| --- | --- | --- | --- | --- | --- | --- | --- | --- | --- | --- |
| Alloy | Si | Fe | Cu | Mn | Mg | Cr | Zn | Ti | Others | Al(Min) |
| 6063 | 0.2-0.6 | 0.35 | 0.1 | 0.1 | 0.45-0.9 | 0.1 | 0.1 | 0.1 | 0.15 | rest |
| 6005 | 0.6-0.9 | 0.35 | 0.1 | 0.1 | 0.4-0.6 | 0.1 | 0.1 | 0.1 | 0.15 | rest |
Solar panel power output and size
| | | | | |
| --- | --- | --- | --- | --- |
| Power (w) | Number of cells(pcs) | Size of cells(mm) | Solar panel frame size(mm) | Weight (Kg) |
| 5 | 2*18 | 78*12 | 280x190x17 | 0.7 |
| 10 | 4*9 | 52*31.2 | 250x350x17 | 1.2 |
| 20 | 4*9 | 78*39 | 420x360x17 | 2.3 |
| 30 | 2*18 | 156*26 | 360x550x20 | 2.5 |
| 40 | 4*9 | 156*39 | 670*420x25 | 3.2 |
| 50-60 | 4*9 | 156*52 | 540x670x25 | 4.2 |
| 80-90 | 4*9 | 156*78 | 780x670x30 | 6.6 |
| 100 | 4*9 | 156*104 | 1000x670x30 | 8 |
| 110-120 | 4*18 | 156*52 | 1020x670x35 | 8.8 |
| 130 | 4*9 | 156*117 | 1120*670*35 | 10.5 |
| 140 | 4*9 | 156*63 | 1200*670*35 | 10.5 |
| 150-180 | 4*9 | 156.75*156.75 | 1480x670x35 | 12 |
| 190-200 | 6*12 | 125*125 | 1580x808x35 | 15.5 |
| 210-230 | 6*8 | 156.75*156.75 | 1320x992x35 | 17 |
| 250-270 | 6*9 | 156.75*156.75 | 1482x992x40 | 18 |
| 280-310 | 6*10 | 156.75*156.75 | 1640x992x40 | 18 |
| 340-380 | 6*12 | 156.75*156.75 | 1956x992x40 | 23 |
| 460-500 | 8*12 | 156.75*156.75 | 1956x1310x45 | 29 |